Post by linus on Jul 4, 2013 5:03:40 GMT -5
This is wish fulfillment. This is the cheese at the end of the maze where things are still good, and no more shocks will happen that cause one pain or discomfort.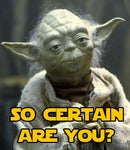 From Drawing on the Artist Within by Betty Edwards.
Chapter 16: There is More to Seeing than Meets the Eyeball
Human beings expend great quantities of brainpower on deriving meaning from the constant jumble of incoming sensory data. The mind seems to long for conclusion, for termination, for closure – closure that most often consists of naming and categorizing, of identifying a stimulus. Each of us yearns for the moment of identification, of "Now I see it!", of the unspoken "Eureka!". Whether the incoming data are important or trivial. And often closure is accompanied by some sense of relief, the degree depending on how important the identification.
Perhaps partly because of this incessant need to identify events and objects, human perception is not the receptive "Let me just have a look and see what is out there" approach that we assume it to be. The visual information that falls in the retina of the eye is not necessarily what we "see". Research in perception suggests just the opposite: "Our minds are made up before the fact." Carolyn M. Bloomer in her 1976 book Principles of Visual Perception states the situation:
"If this view is correct, your mind does not interpret stimuli with anything like an open-minded approach. Instead, you can see things only in relation to categories
already established in your mind
. Closure does not represent objective knowledge about a stimulus but rather the confirmation of a preexistent idea. It means that on a perceptual level our minds are made up before the fact: we have the closure programmed before the stimulus happens!... The result is that you encounter reality with an enormous number of preconceived notions."
Obviously, these perceptual hypotheses ("perceptual prejudices" in Bloomer's term) make life simpler. If everything had to be figured out from scratch, and we paid full attention to each stimulus as if seeing it for the first time, we could never make it through the day.
The problem is that the brain's preprogramming is so all-encompassing, so ready to
"jump the gun"
, so bent on avoiding the anxiety of "not-knowing" that it is almost impossible to turn off the program at will in order to "really" see when perception of a different kind is appropriate and useful.
From The Dance of Life by anthropologist Edward T. Hall
On preprogrammed closure.
There is an underlying, hidden level of culture that is highly patterned – a set of unspoken, implicit rules of behavior and thought that controls everything we do. This hidden cultural grammar defines the way in which people view the world… Most of us are either totally unaware or else only peripherally aware of this.
This was brought home to me recently while discussing Japanese cultural differences with a friend, a brilliant man with an unusually fine mind. I realized that not only was I not getting through to him, but nothing of a substantive nature that I had said made sense to him… For him to have understood me would have meant reorganizing his thinking… giving up his intellectual ballast, and few people are willing to risk such a radical move.
--
Could it be the pid clues weren't put in there by John to "get justice for his friend", but rather they were put in there to subliminally plant closure for people for when they start to investigate it. They were already conviced of PID before they started finding these backmasked, and otherwise subtle
clues
messages.