Post by beacon on Aug 28, 2012 8:51:06 GMT -5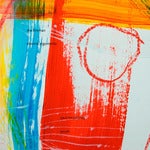 The Vigenere cipher is a method of encrypting alphabetic text by using a series of different Caesar ciphers based on the letters of a keyword
whispered words of wisdom
lol

There will be an answer
Friends, Romans, countrymen, LEND ME YOUR EARS is the first line of a famous and often-quoted speech by Mark Antony in the play Julius
Caesar
, by William Shakespeare.
LEND ME YOUR EARS and I'll sing you a song and I'll try not to sing out of KEY is a line from the Beatles song 'With a little help from my friends'.
Lewis Carroll published The Alphabet-Cipher in 1868, possibly in a children's magazine. It describes what is known as a
Vigenere
cipher.
Caesar Cipher
Lewis Carroll memorial at Westminster Abbey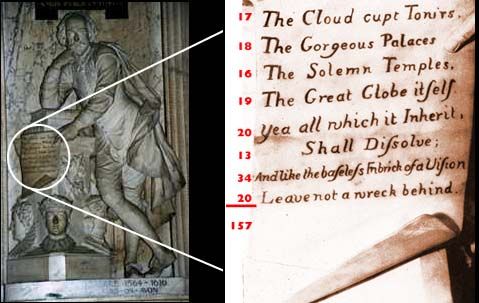 Shakespeare memorial at Westminster Abbey
www.sirbacon.org/gallery/west.htm

In 1741, poet Alexander Pope and three others were mainly responsible for designing this monument.
Note that Shakespeare's finger points to the significant word "Temples".

....the Abbey authorities knew the secret when they allowed the monument to be erected, for the stockings are graced with the head of Francis Bacon, the stockings are engraved with Tudor Roses and a crown, and the lace work on the ruffs of the sleeves is an exact representation of the ruff worn by Queen Elizabeth. Between his feet are the Sonnet initials T.T., referring to Masonry (Thirty-Third Degree) The place of honour in front is given to a beautiful youth, a crowned Prince, young Francis Bacon of the Hilyard Miniature. On the left is the figure of the Queen's second son, the Earl of Essex, or the Queen's husband, the Earl of Leicester. The Hilyard Miniature of Francis Bacon as a youth of eighteen appears in the Queen's own prayer book.
Another Baconian symbol was the letter T. The T would display a rose and stood for the Tudor rose, the regal lineage from which he was descended. The rose is also a Rosicrucian symbol. What's in a name? That which we call a rose by any other name would smell as sweet.
The answers lie behind the Temple Dors